Research Core Report on the 2014-15 BRIDGE program
SUMMA BRIDGE PROGRAM
Building Relationships In Dynamic Group Engagement
Parents play a vital role at Summa Academy. Our parents are committed to personal development, engaging curriculum, and community building. We empower parents to participate in our educational environment and parents commit to the BRIDGE (Building Relationships In Dynamic Group Engagement) Program. The benefits of this are:
Family and School Cohesion – a bridge between home and school for parents and educators to work together in support of students at school and at home
Community Connection – connect with other Summa families to build supportive relationships
Learning and Personal Enrichment – opportunities for self-growth, greater awareness of brain development, ways of understanding the world, capacities, and potential in each stage of childhood
You can download the report here: 2015_BRIDGE_Program_Report.pdf
Teacher Training Analysis 2013
This entry triggers the custom layout. Please do not close or delete.
Field Learning 2015 - a letter from our Headmaster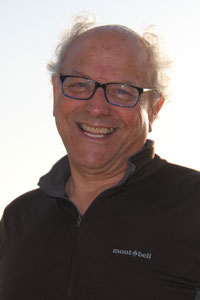 Among the touching moments at last night's BRIDGE parent meeting was the observation by several parents of the unity and support among all the Summa students during the two weeks of Field Learning. This unity is a testament to the commitment to Emotional Intelligence by students and staff. While I have seen this develop over the past year, and especially over the last five months, I had viewed the changes as incremental. The parents' observations revealed just how far we have come as a community and as a culture. Mutually beneficial relationships among everyone at Summa is a goal that I have always felt should emerge. I estimated it would take three to five years. And yet here it is in two. Maybe touched is too light a word for my feeling; blown away is better.
As Head Master my job description includes overseeing experiential learning during Field Learning. Here the Educators did a spectacular job. But to pull off two weeks of the complexity and commitment that Field Learning requires calls on every staff member, and a significant number of parents to contribute their best.
Amber keeps the wheel spinning, never at a loss to notice what is required and to either provide it or find the right person to do it. At the same time her suggestions as to where we go and what we do add much to the creative moment.
That same can be said for Dr. J. Her support for all the parents brings coherence and consistency throughout the program. She creates activities for parents to observe all students and thus add to their appreciation of how children organize their world. Her ideas about student groupings and destination choices reveal just how deeply she holds all of us at Summa. And, like Amber, her perseverance and creativity through many a long hour inspires everyone.
I must include John and Karen. Here early, adjusting to logistical changes on the fly with cheerful skill, researching places to go (many of which turned into dead ends) and organizing available resources both here and at destinations, they exemplified dedication throughout. In many ways they are the glue that binds parts in the whole.
And, of course, the parents. Some snapshots: In the Ape Cave helping students scrambling over eight foot high boulder fields, at Westwind, learning with students at the tide pools, in the MAX station at the arboretum examining that display of the layers of earth between us and the surface. This list is but a smattering. I could go on and on describing meaningful parental engagement.
But while this is a love letter to everyone involved, it is the wholeness that is greater than the sum of the parts that I celebrate. Through intense times, through challenging learning, and in the midst of the daily surprises, that connection with one another was there. How wonderful for all of us.
Teacher Appreciation Month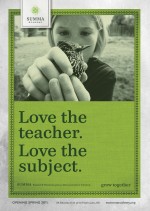 Did you know that May is National Teacher Appreciation Month? May 6th this year was Teacher Appreciation Day, and kicked off Teacher Appreciation Week form May 6-10.
Summa took to Facebook to ask, "What Summa teacher do you appreciate, and why?" Here were some of the answers we received.


"My daughter is lucky enough to have Mrs. Hunziker in the Explorer's class for Kindergarten. I love the way they use *Sound to Symbol* to have a phonetic approach to language, they also have music and a teacher who is so loving and great. Thanks for everything you do for our family, Mrs. H."
- Evan S.






"I appreciate all of the educators. Mr. Ley was talking about Magneto this morning with many of the kids, I thought it was so cool how he can challenge, inspire, mentor AND really hang with the kids at a level they can relate to."
- Amy H.








"My daughter is in the Onyx room with Ms. Natalie Pepper. We could not ask for a better partner in education for us and a better mentor and role model for Abby. The close relationship Abby and Ms. Pepper have allows Ms. Pepper to push Abby when she needs it and wrap her in support when she needs that."
- Michelle E.








Mr. Peters and Miss Townsend are enthusiastic, captivating and genuine in their interactions with students, and the kids respond by showing a true love for learning. - Liane B.-P.


You can find out more about our Summa educators and the rest of the Summa Faculty and Staff here.
Parent Focus: Melissa DeMartini and Edward Biden
Melissa DeMartini and Edward Biden are both long-time native Portlanders. Melissa grew up in the Milwaukie-area; Edward in Garden Home. Now a family with two kids, Finn & Lola, dog, Harper, and cat, Dempsey, they live in Garden Home. Their son, Finn, attends Summa Academy, where he is currently in the Emerald classroom. Lola will join him there next year.
What attracted us to Summa was the individualized curriculum that allows each student to learn at his or her learning level, the 11:1 student/teacher ratio, the project based learning, and the strong community. One of the most rewarding aspects of Summa is seeing each student being celebrated as an individual. Finn is so excited about going to school and absolutely loves his teacher and loves learning. He is truly passionate about being part of Summa. As parents, it's everything to us, seeing our child thrive both academically and emotionally!
Melissa and Edward both own their own businesses. Edward is a third-generation carpenter and fine wood craftsman. His company, Old Portland Carpenters, focuses on custom cabinetry and millwork, historical and period renovation, and custom kitchen and bathroom renovations.
Melissa opened The Craft Factory in Multnomah Village in 2013. A craft studio offering weekly drop-in hours, off-site after school programs, as well as birthday parties and private events, The Craft Factory focuses on using recycled and re-purposed materials for crafters to explore their imagination and creativity.
Coming from the background of a cooperative preschool, we were drawn to Summa by the community and family-based approach to education. We view education as a family effort, and so does Summa Academy. After two years' experience in the public school system, we just wanted a lot more for our children. Summa gives us that.
Both Melissa and Edward have been proud to contribute to the Summa community over the last two years. Edward's workshop has produced the tables in the art room, the coat hooks in the Exploratorium, Investigatorium and in the Emerald classroom, and he has been instrumental in designing and constructing the Summa outdoor playscape. Whenever possible he has used recycled materials for construction (tables in the art room are all made from recycled solid core doors from the Rebuilding Center). Melissa has provided crafting for some of Summa's special events, and plays an active role in promoting the school to her community.
Summa Academy, Montessori, Waldorf, and Reggio Emilia
A Comparison Table: Summa Academy, Montessori, Waldorf, and Reggio Emilia
For over 30 years Summa's holistic child development approach, Natural Learning Relationships, has been used by schools of all types (including many Waldorf and Montessori schools), parents, and social service agencies to improve academic excellence, emotional intelligence, and family relationships. In 2013, Summa opened the first Natural Learning Relationships school of its kind in Portland Oregon. Many parents have asked us how our approach differs and is similar to other educational approaches. We have taken a table which already existed online and added Summa Academy to it (we have not changed the Montessori, Waldorf or Reggio Emilia sections in any way).
Download the table here:
Summa_Montessori_Steiner_Comparrison_Table.pdf
This table was created in response to requests and is intended to provide a quick summary. It is not intended to be an exhaustive representation.
Philosophy - Natural Learning Relationships describes how children organize their world and the support they need to optimize their innate capacities.
Natural: the essential qualities or inherent capacities which we are born with
Learning: movement through life to gain knowledge, appreciation or mastery
Relationships: mutual respect in which inspiration and wisdom emerge
Using Natural Learning Relationships, our curriculum optimizes each moment so that learning is ongoing and in tune with each child's developmental moment, learning style, and growth in Emotional Intelligence.
Teaching Style – Educator as mentor nourishes trust—trust between student and educator, trust between family and Summa, trust among the students. Academic excellence blooms in students who live with trust. Summa educators skillfully use teaching tools to engage differing proficiency levels while sustaining the class's social structure. Summa educators are mentors. They facilitate intellectual and emotional learning.
Learning Activities – Students work in groups and alone according to their Personal Learning Plan.
Intellectual and Emotional Intelligence are interconnected and mutually beneficial for a student's success.
Personalized Learning Plan builds upon strengths, identifies learning edges, and outlines goals important to the student and parent. Plans are collaboration between the educator, parent, and student.
Curriculum is Emergent is designed to be developmentally appropriate, engaging, and is designed to support growth in all areas of a student's development (e.g., academic, social, emotional, physical, aesthetic).
Project-Based Learning (PBL) is learning by doing as students explore real life questions. Our educators are true partners as they guide students through practical applications of academic learning with engaging a driving question, inquiring as they go, listening and collaboration, communicating, and finishing with a community presentation.
Parental Involvement – The Mission of the Summa's BRIDGE program is to empower parents to actualize wisdom . How we do this is by teaching Natural Learning Relationships for parents to access wisdom-based-relationships with their children. The goals of the Parent Education Program are empowered parents as collaborative partners, to unite educators and parents, and to build a bridge between home and school.
The foremost historian of holistic education in the world, Dr. Ron Miller, offered this endorsement:
Natural Learning Relationships could be subtitled "What Every Educator Needs to Know." In a profound way, this work questions our educational priorities and asks how we can expect children to grow into healthy adults in a competitive, fearful, mechanistic culture.
_________________
  Wisdom: In every stage of life there is wisdom that is present and available. In Natural Learning Relationships, we refer to wisdom as right action that is in relationship to the context (what the situation will allow) and to that child's stage of life (i.e. developmentally appropriate right action). It is action that is always toward accessing the child's well-being.
Wisdom = knowledge, experience, and action which arise in relationship to context.
K-8 Open House

When: Fri, April 17 10am-12pm
Where: 2510 SW 1st Ave, Portland OR 97201 (map)
What: Come learn and explore. See the updated classrooms, meet the Summa Educators, and have a conversation with the Summa Academy Director!
Traditional education focuses almost exclusively on the cognitive/intellectual development of children – yet we intuitively know that a person is so much more than their book smarts.Children are diagnosed more rapidly now than at any time in history. Youth are prone to depression, bullying, boredom. They are suffering academically and socially, they have little confidence and they don't know how to find the joy and wonder in the world the way they did naturally when they were four or five. Their spark is gone, and our society is suffering as a result.
The Summa Difference
Summa Institute unites family development, education and research through an unprecedented child-centered, family supportive learning community where inspiration and wisdom emerge.
We are offering you another choice: for your child to actualize their full potential. It is what we do. And we don't just do that for your child, we do that for your whole family. Is it worth $13,250/year to know your child is actualizing their full potential? Is it worth it to love your family time, to look forward to family dinners and vacations?
Here is what makes us unique:The Academy integrates the latest in what works in education.
Small teacher to student ratio (11:1)
Project-based learning integrated into the core curriculum
Fostering a joy in learning first and foremost
Academic excellence through experiential learning
Teaching relationship/communication skills at every age and stage
We are the only organization in Portland that combines a school, professional development training center and research entity under one roof
We are the only school in Portland which offers whole family education as an integrated part of the curriculum
Founders as Teachers: the founders of Natural Learning Relationships, the philosophy which guides all we do at Summa, are on-site and engaged in day-to-day teaching
We have a common vocabulary for parents and teachers to use when talking about the child, bridging the gap between home and school
We teach our students to self-reflect in a way that builds confidence and helps the child know their place in the world
Our teachers are engaged in ongoing professional development, a significant advantage over typical in-service and staff training
Quick Facts:
8:45 Drop Off
9:00 School starts
9-9:30 Home Room check-in and Interpersonal Curriculum
9:30-10 Physical Activity (PE)
10-12:30 Academic Learning Blocks (45 minutes each)
12:30-1:20 Lunch & Recess
1:20-2:15 Academic Learning Block
2:15-3:15 Project Based Learning
3:15-3:30 Home Room check-in and Interpersonal Curriculum
3:30-3:45 Pick up
3:45-6pm Optional After school care
11:1 student to teacher ratio
Kids spend time outside every day
Art and music are a part of every week with specific classes and in-class time
We value diversity in our student body ethnically, socioeconomically, learning styles
Tuition $13,250/year
Summa's Playscape: The All-Natural Playground
MetroParent/PDX Kids Calendar recently released an article titled, The All-Natural Playground.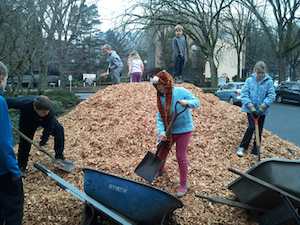 "Natural playgrounds," the article states, "long popular in Europe, are popping up all over the United States and the Portland metro area is at the forefront of this back-to-nature movement."
Summa Academy is the forefront of this movement, with our outdoor natural playscape. We have worked as a community with the help of Learning Landscapes to design this natural playground which our students already enjoy, and which we'll be adding to during our May 2nd work party.
Currently, the Summa playscape includes Playtopia - a playscape designed by the kids and parents for our younger students featuring slides, imaginary play store, covered sand pit, and covered work bench area.
"The key to this type of playscape is to keep is really open and suggestive. This way the students can creatively engage their environment. Their play shifts with the loose building and imaginary supplies we put out on the playscape. If we add a bucket of plastic food, suddenly their play revolves around running a story, or a restaurant. In this way we can tie their play together with what we are working on in the classrooms. Continuing the subject based themes in their play concertizes the learning in a whole way." Says our Director Amber Kara, who has spearheaded this project.
This year, we are putting more onto Northwoods, our playscape for our older students. We will be adding a climbing wall and a gazebo which we can use as an outdoor classroom. We will celebrate these additions during our annual Spring Fling on May 15th.
Playscape design by Summa parent, Ed Biden, of Old Portland Carpentry.
"Playing outside doesn't just give kids exercise," continues the article. "Research shows it helps kids with coordination and problem solving, cuts down on stress and frustration, and teaches them to risk, testing the limits of their abilities. Plus, kids who play outside learn to love nature - and they're inheriting an Earth that will very much need their protection."
Summa has always believed in the connections children need to form with nature - it helps to develop a strong sense of place, which underscores our National Learning Relationships and Project-Based Learning model of teaching. Not only do Summa students have scheduled recess and other outdoor play time, but we actively build projects and themes into the curriculum that allows the students to maximize learning as connected to the outdoors. For instance, Summa students have gardened at the National College of Natural medicine, studied the water cycle from the top of Mt. Hood through Tom McCall Nature Preserve to Bonneville Dam, and have studied the cycle of life by watching caterpillars turn into butterflies and then releasing them into the wild.
The Summa playscape features heavily in the "The Sapphire Squad" video made by Mr. Peters, showing how these 1st-3rd graders can turn Summa's playscapes into all kinds of settings, using just a few pieces of equipment and their imaginations.
So, the next time you consider a family playdate as the weather gets warmer, check out the natural playgrounds listed on the Learning Landscapes Blog and spend some quality time outdoors.
Rites of Passage Workshop
Join outdoor and experiential educator Amber Kara for this interactive workshop.
$75 - $150 sliding scale
When: Mondays, April 13, 20, & 27 from 6-7:30pm
Where: 2510 SW 1st Ave, Portland OR 97201 (map)
What: During these three classes you will learn the steps to a successful Rite of Passage and complete a plan that can be implemented at any time. Open to all parents. Rites of Passage increase confidence, self-reliance, competencies, and family coherence. Come to design a Rites of Passage for your child that you can execute this summer. This is a powerful experience for the family, and meaningful to the child.
To RSVP: Email .(JavaScript must be enabled to view this email address)
Meet Class Leader, Amber Kara, Director of Summa Academy.
Amber is both an observer and practitioner of interconnectedness. She sees how small things are connected to bigger things, how no action or interaction happens without reaction. As a marine biologist in a small Zodiac floating among a pod of Pilot whales, she realized you cannot study something and not influence it in some way. As a quilter, she can focus intensely on a single piece of fabric for hours—all the while knowing how it affects the larger design.
Talk with Amber and she looks you in the eye in a way that makes you feel like she hears and feels every word. When you're done, she'll connect what you just said to something that magnifies the power of your own words and feelings in an enlightening way. She guides by connecting people, things, events, action and reaction.
During her 19 years working with the organization, Amber has taught Natural Learning Relationships to hundreds of parents, led dozens of school groups in ropes course experiences, brought children from the inner city to the outdoors, and planned and executed programs for families, teachers, and children. Amber now serves children, families and professionals as both President of Summa Institute and Director of Summa Academy.
Does teaching according to the Common Core undermine moral understanding?
Written by Summa Academy Headmaster and Co-Founder, Ba Luvmour
The debate rages on the op ed page of the NY Times and progressive websites like Slate:
Does teaching according to the Common Core undermine moral understanding in students?
I won't describe the debating points each side posits other than to say that the argument between whether there are "moral facts" vs. "moral relativism" has been ongoing for a long, long, time. And so philosophers, educators, psychologists continue to try to think their way into morality when the answer lies in Emotional Intelligence.
This is an example of an ancient teaching story that is told in many cultures:
The wise fool comes upon his friend on his hands and knees under a lamppost.

Wise fool: What are you doing?
Friend: I lost my key and I am searching for it.
Wise fool: Would you like some help?
Friend: Sure.
After some time no key is found.

Wise fool: It's not here? Where did you lose it?
Friend: Across the street, up the dark alley.
Wise fool: Then why are we searching here?
Friend: Because this is where the streetlight is.
In our American culture, as well as in almost every school and certainly in the Common Core, there is neither understanding of nor competence in developing Emotional Intelligence. Consequently those educated in the system who become "experts" can only think about morals. They are stuck under the streetlight of dependence on Intellect.  Emotional Intelligence, for them, is "across the street and up the dark alley."
Morals involve decisions about right and wrong according to common standards of justice. Apparently, people who think their way to morals do not subscribe to a common standard that education should include confidence, trust, self-reflection, joy, and perhaps even feelings of inspiration and devotion.  Certainly, children imbued with these emotions would have a different "common standard" than those whose education does not. Instead of this abstract debate about morals, we should examine the mindset of the people debating.
A simple truth of all learning is: capacities are innate; development depends upon relationship. Interdependence and interconnectedness provide the foundation for learning. Relationship is crucial, fundamental, and necessary for Emotional Intelligence to flourish. Marginalize relationships, as an intellect-only approach does, and cripple Emotional Intelligence. It's that straightforward.
Let these philosophers come to Summa Academy and talk with our 10 and 11 year old students. Let them participate in children steeped in Relationship Based Education. Then we would see how strongly they hold on to their categories and definitions.
Here's one example from our Emerald classroom of 9 to 11 year old students. One child has mixed-race parentage. The question of race (naturally, not media driven) arises in class. Students, trusting themselves, talk freely. Quickly the conversation moves to the absurdity of judging a person on skin color ("black and white is not the issue") to fairness ("we all look different"), then to an examination of the qualities of friendship ("loyalty, not hurting one another").
Admittedly, the Emeralds have been steeped in curriculum that includes Emotional Intelligence for the school year. Now, this kind of exchange is natural for them. They do not need anyone telling them a "moral fact" vs. a "moral opinion." They are developing an internal locus of control, a self-trust that allows them to confidently engage all learning.
Now, I ask the debaters: Is the importance of self-trust a "fact" or an "opinion?"
Send your answer to the NY Times.
Educating Summa Explorers
Written by Ba Luvmour, Headmaster & Co-Founder of Summa Academy
The educator's voice calls out in song, the chorus of explorer voices answer. "I am passing letters, around and around. And when they stop, you will pick one, just one. " The students answer, "When you stop, we will pick one, just one." And then there is silence as the bag of letters stops at one child, a letter is picked from the bag and then the child calls out, "L!" "Oooo, L that is a great letter. What do we know that starts with L?" The educator asks. And then the chorus of little voices begins again calling out all the L words they can think of through their laughter. This is Summa Academy's Exploratorium.
Each and every day, unstructured free play is skillfully used as learning. Summa boasts adventure playscapes. Tires, huge and small, varied sized blocks of wood, boulders strewn around, outdoor "kitchens" areas to run, and all sorts of balls invite student creativity. Mrs. Hunziker, our Explorer lead educator, talks with the children about relative size and weight, speed, cooperation, body awareness, and conflict resolution during the play. Later, in the classroom, these conversations turn into projects that include length, measurement, Emotional Intelligence, and more. She has a plethora of teaching tools at her disposal and fits the tool to the student so that learning is natural, joyful.
In the explorer classroom, we use Sound to Symbol Praxis. Brought to Summa by the irrepressible 86 year old Fleurette Sweeney, Sound to Symbol makes music out of our everyday language, uses whole class games so that the sound resonates throughout the body and social learning occurs, has fun filled educator led activities to decode the sound and turn it into a symbol, and includes dance and drawing to make the learning whole. Brain research validates that reading begins with listening, with distinctly hearing the sounds that make up the language.  Sound to Symbol is, then, basic in the development of reading. Used in accord with Natural Learning Relationships, Summa explorers learn that symbols are representation of sounds that we hear every day. Symbols, by the way, can be written words, music scores, flags, signs, or other representations humans use to communicate.
Summa Explorers value themselves as learners, as people. They do not have to live up to imposed, arbitrary standards dictated by adults who don't know them, and wish to mold them in ways subversive to their natural needs and learning capacities. How I ache for the children subjected to the curriculum described in the article that accompanies this blog.
An Example of Self-Reflection at Summa Academy
Written by Josette Luvmour, Summa Institute Co-Founder

Self-reflection is simply to know oneself as we are. It is a process of knowing exactly who we are, as we are. Self-reflection is to be aware, as I am in the moment.
Being self-aware is to look within ourselves to get a clear snapshot of our thoughts, beliefs, emotions, motivation, etc. It is self-awareness without self-judgment and no strategy. Emotional intelligence is directly connected to becoming self-aware.
At Summa Academy, we bring self-reflection forward in relationship in moment-to-moment interactions every day. We create a safe field for reflection to occur at all ages of development. I give you an example from an interaction I had recently with a 5 year old child in the Explorer Room.

I was called in to help with a 5 year old boy just after he tore another child's Pokémon card in half. I went in open, curious, and caring.
DrJ: What happened?
5 y/o boy: I tore his Pokémon card in half.
DrJ: Do you know what was happening for you when you did that?
5 y/o boy: I made him [other boy] mad. He got angry.
DrJ: Did you want to make him angry?
5 y/o boy: No. Um, I don't know.
DrJ: Were you angry with him?
5 y/o boy: No.
DrJ: Can you remember what was happening inside you just before you decided to tear his card?
5 y/o boy: My thought came up with the idea, "Oh, just tear-up his card. Yea, just do it."
DrJ: What did your heart say?
5 y/o boy: Nothing. But my gut said, "No, don't do it. That would not be good. But then my thought said, Just DO it. So I did it."
DrJ: Now what do you feel?
5 y/o boy: Ummmm. Not good, but not bad either, something in between.
DrJ: Is that something in between a feeling you like?
5 y/o boy: He signaled his feeling by putting his thumb in the air and pointed it down as he looked me in the eye and scrunched up his mouth.
DrJ: Oh, I see. So your thumb down says it's not really a good feeling?
5 y/o boy: Yea.
DrJ: I wonder if you could remember that feeling the next time a new idea comes into your head you can take a breath and make a new decision. What do you think?
5 y/o boy: I don't know, maybe.
DrJ: What do you want to do now?
5 y/o boy: I guess I'll apologize. Then I'll fix his Pokémon card.
DrJ: How will you fix the torn card?
5 y/o boy: I'll just tape it!
DrJ: That's a great idea.
…and off he went to speak with the child whose card was torn. Face-to-face, very simply, he apologized.
There is no script. It's all about relationship in the moment. A book cannot teach us how to do these things. To engage this child in his body wisdom was the key. To this child, it was so simple—he was supported and open. It's a core value and present in who we are and what we do at Summa Academy.
Parent Focus:  Shannon Conley
Originally from New Jersey, Shannon came to Portland via Charleston and Los Angeles. In 2007 she opened Urban Waxx, focusing on two of her passions: customer service, and creating a positive, validating, exciting space for employees to grow and thrive.  She began with one location and three employees, intent on providing an over-the-top customer service experience combined with an excellent wax in a chic, relaxed, friendly environment. Today the business has grown to five locations and 70 employees:
"It has been, besides my children, my greatest joy!"
Having her daughter at Summa has been a very positive experience.
"When Stella came into Summa she was, in a word, sad. She had been in a school that just did not 'get' Stella. She was excluded often from activities in the classroom, and we were watching her slowly shut down. It was heartbreaking for us, and we really felt helpless. Within a week we saw a little bit of Stella's spark back. The Educators and Admin at Summa have really done a terrific job of connecting with Stella and with making her feel loved."
Shannon feels that Summa's focus on the child, through the lens of child development, is key.
"It has been extremely educational for me to look at my children in the realm of development as opposed to what my preconceived notions about where they should be are. Also, I love that the Administrators and Educators are so accessible. They are always open to meeting with us."
Self-Reflection Dialogue with Ba Luvmour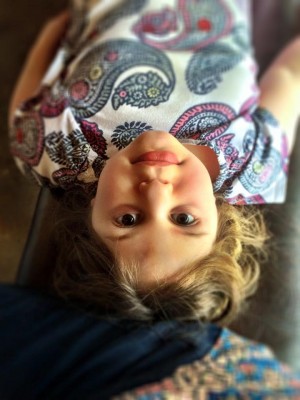 Several parents have recently asked me to go into more depth about the third goal of the Academy: self-reflection. They mention that self-reflection in education seems to be unique to Summa (it is). Some have seen the recent data showing the benefits of mediation and quiet time. And a couple of people mentioned the Parent Enrichment Program and the way Josette and Albee talk of wisdom-based relationships.

So, they ask, why do we emphasize self-reflection? How is it brought forth in the classroom? How does it awaken wisdom in the student? What qualifies Summa staff to name wisdom as inherent in their teaching?

Great questions, and ones that I am thrilled to hear. Wisdom thrives at Summa. It is a core value and present in who we are and what we do. A community thrives when its members dialogue about its most important values. And so it is time for us gather to dialogue about self-reflection and wisdom together.

A word about interactive dialogues. The facilitator frames the topic, ensures that all comments have relevance, maintains a queue so all are heard, and inserts relevant background to deepen understanding. Interactive dialogues are relational, respectful, and energize understanding and appreciation.

So let's get together for two interactive dialogues. If you are interested please come. And bring along anyone who might be interested in this topic. As interest in mediation grows there are many who will be valuable contributors to the dialogue. There is no cost and it is not a part of the Parent Enrichment Program.

Dates: Monday, March 9 & 16 from 6 to 7:30
Where: Summa @ 2510 Sw 1st Ave.

See you there, no RSVP needed.
We have just posted a blog entitled Wisdom and Love.  It provides some interesting background for our dialogue. Also, please re-post it everywhere. It provides insight into the value and depth that we enjoy at Summa.
Shop Talk for Portland Business Alliance

March's ShopTalk is hosted by Summa Academy, an independent school for children ages 4-14 and their families. Summa, located in downtown Portland, unites family development, education and research through an unprecedented child-centered, family supportive learning community where inspiration and wisdom emerge.
Date: 3/3/2015
Time: 7:45 AM TO 9:00 AM
Location:
Summa Academy
2510 SW 1st Ave
Portland , OR 97201
Phone:
503-552-6770
Register:
Click here: http://weblink.portlandalliance.com/events/eventdetail.aspx?EventID=3808
About Shop Talk:
Shop Talk is your opportunity to have an exclusive inside look at different Alliance member companies. Join 20-30 fellow Alliance members to "talk shop" over coffee and a light breakfast. The event features open networking, member introductions, a brief host presentation, and a door-prize drawing. 

Registration will close at 3:00 p.m. Monday March 2, 2015 for this event, but you can still attend by paying at the door.
Short film of our 6-8 class
Summa Studios Presents…
The Sapphires on a quest to hear a story read aloud.
Mr. Peters says: "We started filming our transition back into the classroom from recess to read aloud. It's fun to capture all the energy that our 6-8 year olds have at the that time of the day and use it to create an original project. Their enthusiasm is infectious and has turned something like a simple transition into one of the best moments of our day!"
Teacher Training for Subs
Teacher Training for Substitute teacher pool
You are receiving this email as you have expressed specific interest in either teaching or substituting at Summa Academy. You are invited to join us for a FREE workshop on Wednesday, February 25th @ 10 am to 2pm at Summa Academy in downtown Portland. This program is a requirement for eligibility for being added to our substitute teacher pool.
Summa recognizes that as an educator, you're always learning. Through face-to-face interaction with children and colleagues, a new world full of possibilities takes shape every day. That's the beauty and reward of human connection.  Now, imagine a place where education, families, children and teachers intertwine and are attentively encouraged to grow together. Here at Summa Academy, educators are a core part of our vision of a child-centered, family supportive, educational community, sustained by mutual respect in which inspiration and wisdom emerge.
Who: Josette and Ba Luvmour will be presenting together and want you there if…
You are curious about Summa and relationship based education
You are in need of fresh insights into how children grow and learn
You are interested in working at Summa Academy as a teacher
You care deeply for children and education
Things to know: We are looking to build our substitute teaching pool – we hope you will consider joining us.
Natural Learning Relationships— a whole-child appreciation of development that has simultaneous benefits for the educator and parent. The NLR approach is the core of all Summa programs. We will share tips and tools that you can apply immediately.
This presentation is a great way to learn more about Natural Learning Relationships, and what working as an educator at Summa Academy would be like.
This seminar will support your professional practice as the information can be applied to most educational venues immediately.
Where: Summa Institute, 2510 SW 1st Ave., Portland Or 97201
When: Wednesday, Feb. 25th 10am-2pm.
Please RSVPat .(JavaScript must be enabled to view this email address)
Wisdom and Love
Never mistake knowledge for wisdom.
One helps you make a living; the other helps you make a life.
– Sandra Carey
Wisdom lives in each of us. Similar to every other natural capacity, nurturing relationships are required to draw wisdom forth. What is wisdom? You will find our working description below in the excerpt from Josette's dissertation. My favorite part is the description offered by the parents she worked with. Unfortunately, most conventional education approaches neglect that drawing forth wisdom is the primary work of parents and educators. Over the past 30 years I have talked with thousands of parents and educators. Most express a deep desire for their children to actualize wisdom. Parents say that the qualities we want our children to develop include aspects of wisdom such as patience, honesty, compassion, respect, empathy, humility, gratitude, and inspiration. Most parents love their children, deeply and meaningfully. What's missing? Shouldn't that love be sufficient?
Ironically, the wisdom relationships that parents and educators also need for wisdom-based relationships to emerge have been neglected. If they consider their wisdom needs at all, elders are expected to have their needs met outside of the family, usually in a retreat or spiritual practice. Ironically, that wisdom emerges in the home and in the school, in everyday interactions. The thing is, wisdom must be nurtured.
Few have known how to do this. Even fewer have known how to educate others as to what is missing and how it might be supplied. And those few have either not known how to communicate their understanding or have done so in a specialized academic or esoteric language that is not readily available to the people who need it most everyday—parents and teachers.
Natural Learning Relationships and Summa are the rare exception. Josette Luvmour (Dr. J) leads Summa's Parent Enrichment Program. This program brings the opportunity for wisdom-based relationships into the home of every Summa parent.  Our Teacher Training program does the same for our educators. The following is one small excerpt from Dr.J.'s evidence-based research. (Emphases below are mine.)
—————[Excerpt Begins]—————
Wisdom was reported by half of the participants in this study; that is, they reported a shift in their quality of being. As demonstrated earlier, intentional effort to nurture the child's development offered opportunities to re-examine, reorganize, and even transcend earlier development thereby shifting to more complex forms of development. Wisdom is a more complex form of adult development involving several components. The qualitative analysis of the data revealed the emergence of five key aspects of wisdom: (a) service, (b) presence, (c) compassion, (d) insight, and (e) gratitude (as outlined in the table below). Moreover, the quantitative analysis showed that a higher level of child development competence was associated with wisdom. This section goes into detail about the emergence of wisdom that participants experienced as a result of nurturing their children's developmental imperatives.
Jess, Katherine, Mackenzie, Maria, and Stephanie reported experiences that plainly describe greater access to the natural human capacity of wisdom. Mackenzie offered a good example of expressing wisdom in her relationships with her two children and with others:
I trust that there is wisdom in every interaction, and that if I can sit back and let that wisdom emerge, it will take us where we need to go. That's what happened with my kids, and that's what happens with my clients, and that happens with me. That's part of being in the wisdom of the moment with them.
Mackenzie went on to describe what she meant by her use of the word "wisdom":
Wisdom is a knowing.  It's not the kind of knowing I get from my head and my intellect, though my intellect gets to contribute. It's not the kind of knowing I get from my heart and emotions, though my feelings get to contribute. Although there is a spiritual component, it is not a spiritual knowing. There is wholeness to my wisdom that incorporates all of those kinds of knowing. My wisdom is generally very simple. There is rightness to it—not a right/wrong [type of] rightness but simply a deep "is-ness." I can tell it's wisdom by how I feel. There's not struggle in wisdom. There may be struggling getting there but one of the ways I know that I am in wisdom is by its simplicity, its wholeness, its rightness. I have a certain peace in wisdom. I might be sad or happy or angry but underlying that is a peace in knowing.
… [Child development information] is not something I use, it is something I am. ... It's always part of who I'm being. … ... I can live with uncertainty now.

Katherine said,
It's mysterious as to why this knowledge base of [child development] is somehow spiritual for me ... It gives me the possibility of connecting at a deeper level with humanity because humanity goes from babies all the way through to the old-age…. child development adds a spiritual dimension to the relational part of my practice.
The data revealed the emergence of 5 key aspects of wisdom:
1. Service
Giving of self for the benefit of others; Using child development knowledge for the benefit of others
2. Presence
The ability to bring all of one's self with full attention to the moment
3. Compassion
The ability to feel, understand, and care for the suffering of another person without taking over the other's experience
4. Insight
A moment of new realization and/or feelings of greater understanding involving seeing new relationships; The ability to be consciously aware of more of the whole all at once
5. Gratitude
Feelings of appreciation and thankfulness; Expressions of appreciation and/or thankfulness

An unexpected result in this study was that some adults not only made new meaning of old childhood experiences and experienced well-being, but they also reported increased wisdom with experiences of compassion, service, greater presence, insight, and gratitude. Wisdom is a human potential that is associated with many significant real-life pragmatic characteristics. However, the literature in adult development does not mention that relationships with children can be a context for the emergence of wisdom. It was serendipity to find that access to wisdom emerged in some adults who continued to make intentional effort to nurture the child's developmental imperatives. It was delightful to learn that if the adult is ready and willing to make a commitment to learn how children develop, engage self-reflection, and understand the child's worldview, then the emergence of wisdom is possible. A model of the emergence of wisdom that unfolded in this study is demonstrated in Figure 4 below.


FIGURE 4. A MODEL OF THE EMERGENCE OF WISDOM IN THIS STUDY AS AN ONGOING PROCESS
—————[Excerpt Ends]—————
Participants in this study were a randomly selected group from program graduates of a family-development program similar to the Family Enrichment Program that is part of Summa Academy today. The parents studied for this project had not been coached by Dr. J. or myself;  nor did they have any formal training in Natural Learning Relationships for at least 10 years prior to the research project. Thus, we maintain that, after the initial NLR training, their Love for their children was a primary motivator to make the intentional effort to engage wisdom-based relationships with their children.
Love and Wisdom. Wisdom and Love.
Reference:
Luvmour, J. (2010). Adult development: Emergent wisdom in the family context. Saarbrücken, Germany: Lambert Academic.
A Closer Look at Headmaster of Summa Academy, Ba Luvmour, MA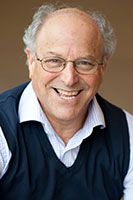 Co-founder of Summa Institute and co-creator of Natural Learning Relationships, Ba Luvmour has published five books, taught hundreds of parents and children, and led countless programs for families since 1985. Ba is also adjunct faculty at The Self Design Graduate Institute. When you ask Ba how he became the fortunate man he is today, surrounded by an amazing family, partnered with a loving and inspiring woman, in active pursuit of his dream, and he'll tell the truth: Self-reflection, spiritual inquiry, voracious reading, and a fair bit of luck.
When you hear the whole story. it is clear that he is on a journey. Today Ba is 3,000 miles from his New York up-bringing, but like every active and engaged life-traveler, he remains connected to each place, experience, and friend made along the way. Ba stays on his journey because he is an observer and reflective man, but to the benefit to everyone around him, he's become a skilled guide for others on their journeys.
In Summa Academy's welcome video, Ba speaks about how his journey brought him to this point.
Welcome to the Summa Institute from Summa Institute on Vimeo.
Highlights from the video include:
"Josette and I have continually been interested in the nature of human consciousness. Why do we make the decisions we make, and we started to ask ourselves, "Who's looking at children as wellsprings of well-being. Once we started to ask ourselves those questions, Natural Learning Relationships was right there… So these capacities are inherent in us. And those capacities just need the right relationships to develop. We have a saying, "Capacities are innate. Development happens in relationships."
More recently, Ba was interviewed on Portland-local television station, KATU, about what to say to a child suffering from their first heartbreak. Listen to his words of wisdom in this video.
Ba has both huge vision, and the tenacity to build towards that vision one step at a time. An integral part of that vision are the students who attend Summa Academy. Ms. Pepper's Onyxians recently interviewed him, and we have included it here:
1.    What was your favorite subject when you were in school?
Math when I was in middle school. In high school I loved history, democracy, and humanities.
2.    What was your inspiration for creating Summa?
Love of life; love of children. I didn't want people to keep repeating negative patterns/bad mistakes.
3.    What is your favorite vacation spot?
Silence. It's a place inside me where I can go.
4.    What is the story behind your first name?
It's a nickname. I worked with pre-school kids in Hawaii. For whatever reason, they started calling me that. I loved it.
5.    What was your least favorite part about your own schooling?
I went to a New York City public school. There were 38 kids in my class. There was no opportunity for relationship. The teachers talked at you and you had to just take it in. I made jokes in class and would get in trouble. There was no chance to get to know anyone else.
6.    What is your biggest fear?
That we won't reach enough intelligence for us to take care of each other and our planet.
7.    When you were little, what did you want to be when you grew up?
Up until eleven or twelve, I wanted to be a professional baseball player.
8.    If you could go back in time what year would you travel to and why?
I would go forward in time, actually. I want to see if we move to a more harmonious society.
9.    What's your favorite animal (zoo or other)?
Silver back Gorillas. I think it's so fun to see them play with their children.
10.  What's your favorite book?
"The Essential Rumi" by Jalal al-Din Rumi
Dr. Fleurette Sweeney and Natural Learning Relationships
Dr. J and Ba Luvmour taught an on-line course for graduate students last semester on Rites of Passage. One of the learners told us of her incredible work combining sound (through music) and symbol (language). On February 12th, she came to Summa to introduce her work to Summa Academy tomorrow and led a workshop for the educators during an in-service day.
Dr. Fleurette Sweeney has spent the past 50 years researching the connection between singing and speaking. Until 1991, while collaborating with Mary Helen Richards in the development of Education Through Music, she taught courses in ETM at universities and school districts throughout the US, Canada and Japan.
Fleurette is founder of the Living Language Institute Foundation Vancouver, BC (1987). Supported by the Foundation, Fleurette and colleagues developed the Singing English Pilot Project (2008) to address the needs of teachers and children in the multi-lingual classrooms of Vancouver, BC.  She currently teaches both children and adults enrolled in the Foundation's Early Childhood credentialing program.  She is a founding member of Music EdVentures Inc. and also teaches courses entitled Sound to Symbol Praxis in the SelfDesign Graduate Institute.
How Love Grows in Children

When my first child was born, I cried. I cried because it hurt (!), but I also cried because my heart was so full to bursting with awe and love. It was a love that I had never felt before. I felt raw and open, soft and powerful, in awe of this little being who had until moments before been a part of my body and was now here in front of me, beautiful in every way. I cried because it was a journey that I was at the end of, but also at the beginning of. I cried because I was overwhelmed with the support and love that surrounded me in that moment. And I cried because I felt a part of something so much larger then myself. This beginning hit of love is something that every parent feels, no matter your background or history. But it changes as your child grows, becomes more intricate, morphs in new and profound ways. As this happens it is helpful for me to keep in mind what the capacities and gifts are in each stage of life.
Family is a child's first experience of love. Let's take a minute and reflect on what love means to each age child.

Love to BodyBeing children (ages 0-7)
Love to children up through 7 years old, involves the exciting play of sensory exploration.
Children this age are capable of loving those who supply security and sensation positive events that allow for the child's boundless joy and power of experiencing the body as connect, loved, and cared for.
Love for FeelingBeing children (ages 8-12)
Love to FeelingBeing children, involves people who are trustworthy and willing to share and discuss their feelings with honesty and sincerity. Children this age love and admire those who provide inspirational opportunities through drama, myth, teaching stories, time in nature, and inspiring cultural events. Love pours forth to people who take the child on inspirational adventures in which she can explore anything that opens the child to a sense of awe with the mystery of life.


Love for IdealBeing teenager (ages 13-17)
Love for teenagers goes towards those who provide the opportunity for the teen to express his ideals and then safely act upon them.  Teens love those who co-create boundaries with them and offer safe social environments. Teens also love adults who are willing to challenge themselves with inquiry into their own agendas.

Love for ReasonableBeing Individuals (ages 18-23)
Love for ReasonableBeing individuals during the development of reason includes people who are willing to:
Play with open-dialogue into substantive values
Question, accept change, and discuss meaning in life
Recognize the individual's accomplishments and maturity

Love is multi-directional in the parent/child relationship. Natural Learning Relationships indicates how an adult experiences love when in the gratifying position of being a part of that child's well-being. Love is what makes life most meaningful. Family relationships are at the very core of human existence and well-being.
Introducing Summa Institute Founder, Josette Luvmour, PhD
Dr. Josette Luvmour, or Dr. J., as she is known around Summa, also serves as the Director of Family Development at Summa Academy and the Director of Professional Development at Summa Institute. Co-founder of Summa Institute and co-creator of Natural Learning Relationships, Josette has published five books, and developed hundreds of experiential learning programs for families and children since 1985.
Josette will walk in your shoes. She'll do this without question or reservation, because she is a person who believes that your perspective is not only unique but uniquely valuable. There is a story in the book Optimal Parenting where Josette describes climbing a tree to talk with a child. She did this for many reasons but here's the big one: The world looks different from up in a tree. It looks different to the child in that tree. She climbed that tree because she believes in seeing through the eyes and feeling through the hearts of others. Now, imagine how comfortable that makes people feel—how much more open it might make them feel— and then consider the positive effect that Josette is able to have on people's lives.
Having spent several years working on her PhD, Dr. J also teaches undergraduate and continuing education courses as an adjunct faculty member at The Self Design Graduate Institute. Here is a clip from her PhD defense:
Josette Luvmour, PhD - Parenting and Adult Cognitive Development from Summa Institute on Vimeo.
Highlights of what she said include this observation about how adults changed after understanding how to use child development tools and skills with their own children:
"People began to see their children differently once they had learned to use child development. People began to see themselves differently once they were using child development with their children. People started to see other human beings differently…they understood more about their friends and relatives and where their child developmental needs may or may not have been met."
Ms. Pepper's Onyxians recently interviewed Dr. J:

1. What was your favorite subject when you were in school?
Humanities was my favorite subject in school. I've always loved biographies and people's life stories.
2. What was your inspiration for creating Summa?
Lots of things. Love of children, love of consciousness, creating an environment where children can be who they are and thrive.

3. What is your favorite vacation spot?
Anywhere where there is sun, where I can ski or hike, and where there is beauty.

4. What is the story behind your last name?
When we got married, we decided that our last names didn't work for us. So we chose one that was unique in its own way and that no one else would have.
5. What was your least favorite part about your own schooling?
How rigid and strict it was. Teachers didn't try to make it interesting and just read from books. They were all about teaching to the test.


6. What is your biggest fear?
When I was young it was being afraid of the dark and strangers. Now, I believe being able to travel has helped with fears. I'm concerned, not afraid, of random acts of violence and world disasters.

7. When you were little, what did you want to be when you grew up?
When I was seven I wanted to be a movie star.

8. If you could go back in time what year would you travel to and why?
Go to where I could have affected change. I would also like to go forward to see where science would be.
9. What's your favorite animal (zoo or other)?
At the zoo, I love the elephants. My favorite overall is whales because they're just amazing.

10.  What's your favorite book?
"The Time In Between" by Maria Duenas. I love well-researched historical fiction.
Love Through a Child's Eyes
I have the great good fortune to live next door to my grandchildren. We play, travel, learn, and are often together. Recently 5-year-old Naomi and I were in the midst of an exciting game of her design. Abruptly she changed the rules. While I knew that rules and 5-year-old children don't always mix, I was momentarily confused and said so.
Naomi: You're supposed to be by the couch, not in the kitchen!!
Ba: How come? You just told me to be in the kitchen. Cut me some slack here.
Naomi: Just go to the kitchen.
We played for a bit and then she wanted a snack. I offered fruit, she wanted a sweet.
Naomi: I'm not sure I got the right grandfather.
A bit later I had to go. Naomi covered me with kisses and clung to my leg to prevent me from leaving.
And then there is 10-year-old Aaron. I shared care and respect with his parents and elder sister before I met him. I could feel his affection from the moment that we met. I have been with him only a handful of times and simply engaged him with FeelingBeing nourishments. Every time he sees me he hugs me tightly and tells me he loves me. 
I was with 15 year old John after his parents had made it clear that responsibility and freedom always come together and that they wouldn't increase his gaming time unless he paid more attention to math and writing. His despondency could have sunk a sailboat.
"I lost," he said. "They always win and get their way."
"Are you more upset by the loss of the gaming time or losing the battle with your parents."
"Both."
"You know they love you, right?"
"I know they think so."
"Do you love them?"
"Yes," John said, then deliberated. "Well, sometimes."
Love Through a Parent's Eyes
Jennifer, a single mom, was butting heads with 14-year-old Daniel. As you might expect he wanted more time to play video games and explore the Internet. Jennifer didn't trust that they were healthy for her son. She wanted Daniel to spend more time with her and his 11-year-old sister.
Soon, rancor threatened. Rather than blame her son, or the culture, Jennifer reflected on her values. Why did she hold those beliefs? Her contemplations soon revealed that she did not understand why these activities were so important to her son. She had been assuming they were distractions. She decided to take her son to dinner and inquire about the meaning the activists held for him.
Surprise! He had been teaching himself programming, going "behind the scenes" to modify games, and researching school projects. And he used the time to relax. At the end of the meal she asked him to teach her what he knew about programming. His smile lit up the room and her heart.
The last I heard she was the scorekeeper in midnight bowling for him and his friends.
George and Alexandra made the tough choice to send their 7 year old daughter, Margaret, to an independent school even though it meant forfeiting restaurant visits and staying home for vacations. George came into Margaret's life when she was three. When I asked why he had made independent school a priority, George glared and sarcasm saturated every word. "Did you really just ask that question?" I guess for him, it wasn't even a question.
11-year-old twins Henry and Marshall were bickering and bad times threatened. June had asked them to stop several times. As an executive of a mid size company she had much to do and, at that moment, was on an important call. Annoyance escalated in her, in Henry, and in Marshall. The shout started deep in her belly and she turned to deliver it face to face with her children. Oh, those faces! The shout died just before eruption.
"What do you boys need?" She asked with genuine empathy. "What do you really need?"
Happy Valentines Day
How Market-Speak Undermines Wisdom in Education
From the desk of our Headmaster Mr. Luvmour
As I type "wbr" into my computer the words "wisdom-based relationship" appear.  I entered the shorthand into autocorrect 27 years ago. Since then I, along with my wife Josette, have been creating and administering programs for schools, teaching professionals, writing, and helping families live wisdom-based relationships with children. Summa Academy, where I am headmaster, is founded on wisdom-based relationships. Every moment at Summa expresses that wisdom through emergent curriculum, interpersonal learning, emotional development, parent education, staff development, and pedagogy.
Creating wisdom-based relationships in education requires knowing how a child organizes her world—what the child sees as important cognitively, emotionally, psychologically. That we know this organization not as separate strands, but as the way children experience it—all at once, in the moment. That we simultaneously see through the child's eyes, feel through the child's heart, and maintain our perspective as educators. The question naturally arises, how can we do that?
We use Natural Learning Relationships, a description of how children grow and learn. This evidence-based understanding of child development arises from thousands of hours of research and extensive field work in a variety of settings. Natural Learning Relationships has been appreciated and utilized by professors from Oxford to Harvard, University of Washington to University of Ontario, and field tested with many, many families by myself, my wife and the dozens of educators and program staff we have trained and worked with over the 35 last years.
Natural Learning Relationships brings insight into how children organize time, space, identity, community, respect, love, death, play, spirituality, and values. All of these aspects of the child need to be known by the educator. In combination, they are the way children make meaning of their world.  These aspects have been named and described by people of wisdom in all cultures. Commonly, the accepted term that includes all of them is consciousness. Natural Learning Relationships brings appreciation of the child's consciousness into focus for parents and educators so they can engage children with confidence and ease.
It is not possible for anyone to expect wisdom to be part of an educational moment without a profound appreciation of the child's consciousness. That is why our educators, in addition to their excellent qualifications and backgrounds, go through extensive (and ongoing) training on the consciousness of children. We look at wisdom and how it plays through each of us in our practice as educators daily. We all, administrators and educators, know wisdom-based relationships. And we are thrilled to teach, and administer a school in which wisdom is the medium and academic excellence and emotional intelligence thrive.
Over the last 20 years Josette's work has centered specifically on adult development, wisdom requires that we include the parents in our practice. 9 years ago, Josette became Dr. J when she completed her PhD in Human Development at the Fielding Graduate University. For her PhD thesis, Dr. J conducted a longitudinal study of families who had completed our programs more than 10 years previous. She studied the effect of these programs on adult development. Privately I had hoped that she would find some type of growth in emotional intelligence and cognitive complexity. After both quantitative and qualitative analysis and rigorous examination by her and her doctoral committee, out of the data emerged wisdom. Wisdom was the change seen in the adults using Natural Learning Relationships within the family context. It was a big moment; neither Josette nor I could believe it at first. But after extensive examination, vetting by the doctoral committee and a profound inquiry into what wisdom means, how it's been seen by great minds of all cultures, and how it might be used in education and human development, it could not be denied.
Based on Dr. J's work, all of Summa's programs will evermore connect parents to the way their child organizes the world. The child enters wisdom-based relationships at home and at school. That synergy leads to optimal well-being, and, of course, to success in learning.
From time to time, I take a look at what other independent schools are up to in the Portland area. Yesterday, I saw highlighted on one local independent school's website "Education with wisdom…" as central to their philosophy.  Curious I looked further. Nowhere else on their site did they explain or expound upon the use of "wisdom".
As a passionate educator, someone who has such deep care for children and families, I get angered by this kind of co-opting of terms that really have such profound meaning and potential for human freedom. I am perturbed and repulsed when others in the field of education use the word wisdom in such a nonchalant way to describe their educational approach.  To use the word wisdom as "market-speak" so that it appears special, perverts the meaning. It seems so unnecessary. I wonder, are they so insecure about the value of their program that they use words with little understanding of their meaning, and their use throughout history?
This local independent school's pedagogical approach centers on stimulating questions and curiosity from their students. That is certainly better than top-down lecturing. Their emphasis then switches to their academic programs that trumpet innovation, technology, science, and the arts. Many photos show their many resources. They also write about contact with family and transparency about educational output. 
Their staff features one leader with a background in cognitive development. There is no indication of how that influences their pedagogy. Reference is made to small class size with no specific delineation. Children are given "buddies" without mentioning what, if any, mentoring those buddies receive. There is no mention of interpersonal learning or the development of emotional intelligence. Their video features a women talking about "knowing" her students but never says the basis of that "knowing". There is no comment on teacher training.
Are teachers just expected to "have" wisdom? It seems egregious. I know how much effort it takes to make something as great as wisdom the focus of an educational endeavor. With no training, how do they know how to recognize it, to nurture it, to step outside their training of classroom management to enter authentic relationship? The teachers express and articulate the meaning of the school. With classical teacher training focusing primarily on management and behavior modification, where is their wisdom training? Wisdom-based relationships do not manage or modify. They relate, develop, participate, and trust in emergent learning.
This absence undermines claims such as knowing a student, or engaging authentic relationship. How can you establish a meaningful relationship without knowing how the students organize their world? How can anyone ignore consciousness and talk of wisdom? Even basic diversity training begins with the importance of understanding the meaning structures of the students. Does a six year old mean the same thing by, say, cooperation that a ten year old does? What is the difference? To know the difference adds color and texture to a grey landscape.  Ignore the difference and an inexorable gravitational pull to behavior modification and hierarchy occurs.
For all its talk about innovation this school's approach comes down to a combination of programs, materials, and techniques that have been around for years. These programs are child centered. The students will perform, no doubt, with less resistance than in some other schools. Their actions may please their parents. Skills will develop.
Tellingly, any description of the child's consciousness is absent. How does each age child form identity or make meaning? What does each age child value? How is death and love perceived at each age of childhood? What is each child's expression of aesthetics? These qualities comprise our precious human gift—consciousness. Without attention to these details education is limited to skill development, performance, and pleasing others. With these qualities of consciousness, academic excellence flourishes, emotional intelligence brings light and humor and the willingness to engage interpersonal challenges with others. Social justice is experienced through the relational interpersonal guidance that is lived at Summa.
I admit that I am weary of institutions or educators who resort to claiming eminence where none exists. It is easy to spot when there is no insight offered as to what the claim is, how children access it, and how the educators are trained in it. It's simply market-speak, it is hollow. The word is used as a lure. If you are also tired of shallow marketing, if you want to see wisdom in education, we invite you to visit Summa Academy and ask us how we engage wisdom-based relationships with our students. I hope, beyond any measure of a doubt, that all education and educators honor their true nature, and teach in relationship to the wisdom that exists in all children and all families. That is what I have dedicated my life to, and what I will always stand for.
Introducing Lead Educator, Ian Peters, Sapphire Room
"I grew up in a family full of teachers so I spent a lot of time in my mom's classroom, just working in there and helping out, and I kind of knew from an early age that that's what I wanted to do." - Ian Peters
Since he was a young child helping to organize the library books in his mother's classroom, Ian has felt a calling to education. The oldest of three kids growing up in rural Albany, Oregon, Ian had lots of space and freedom to explore his favorite books and dive into his imagination, creating new and exciting worlds in his backyard. After enrolling in Western Oregon University, he started to feel a calling to work with at-risk and emotionally abused children in group homes. It was in these group homes that Ian discovered the awesome power that children hold within themselves and when given a safe outlet and a caring ear, how that inner power can reach out helping to transform a community. After being introduced to Natural Learning Relationships three years ago, that awareness of the power that children hold has evolved into something deeper. Acknowledging, mapping, and nurturing the consciousness of children is his greatest passion. Now, Ian is thrilled and feels privileged to join an amazing and committed team at Summa Institute.
In this video, Mr. Peters shares how he learned about Natural Learning Relationships, the environment of safety and assurance he creates in his classroom, and how much he enjoys teaching kids how to read (shot in 2014 at an Open House).
Highlights of his talk include:
"I just got to see firsthand how [Natural Learning Relationships] shifted for that family, and how that system changed in a way that benefited not only the kiddo but the family system and their learning style and nurturing the true consciousness of children. And that was a pretty special thing. And I was like, I want to do this with more than just three kids."
"The biggest thing about that age (6-8), is that they're growing in all these competencies, but they're very hesitant to step into them 'cause it's a feeling of unsure and unfamiliar ways to deal with failure or lack of success. So the biggest thing in that Sapphire Room is creating a safe environment for those mistakes to come forth, because that's a huge mode of learning. And a big mode of learning, too, at that age, is imitation. So if they see that it's okay and they continue to keep trying, then that really allows a lot of their greatness to come forth. So the biggest thing in there is that sense of safety with the kids so that they can feel free to go into those areas, where they're unsure, and know that they're going to be okay, even if they struggle."
"Rather than approaching [the Common Core curriculum] through testing, we do our own assessments…not only of their skill level in there, or their competencies there, but also of their mode of learning. So not everybody gets the same work."
"We find what works for that kid, come up with different strategies, different ways to approach problems, and we find that a lot of that brings a scaffolding element to the classroom, which allows different skills to pair with different skills to solve a complex or difficult problem.

"We just breed that sense of safety within the classroom to go into those places, and so it's not a place where a kid will get shutdown if they make a mistake; it's an opportunity to learn. By doing that, we model our own mistakes quite a bit in the classroom, and how we handle those mistakes."
Introducing Lead Educator, Natalie Pepper, MAT, Onyx Room
"My approach when it comes to teaching is simple: I teach kids where they're at, and help them strive to do their best at their level, not the level of anyone else." – Natalie Pepper, MAT
Natalie is a driven and passionate human being. When she was a child, Natalie was diagnosed with Attention Deficit Disorder. With the guidance of wonderful teachers and the help of supportive parents, Natalie was able to overcome many challenges. The help she received ignited a flame in her to do anything she could to help take care of those around her. Volunteering in classrooms has given Natalie perspective on the world and her place in it. Natalie is driven by a strong desire to help other struggling students find their way. Natalie believes that all students deserve the opportunity to succeed. A week after completing her undergrad, Natalie started graduate school at Lewis and Clark College and received her Masters of Arts in Teaching the following June. For the past year she has been substitute teaching in two public school districts, gaining experience with all grades and subjects. She is drawn to Summa by the promise of a personalized curriculum for students, small classroom sizes, and the ability to build a lasting rapport with each family. The tools she has learned through her own struggles, combined with her education, have made Fall Natalie's favorite season, not only for the changing leaves but the start of a brand new school year.
In this video, Ms. Pepper talks about her teaching experience, how she helps her students prepare for high school, and her philosophy for dealing with the emotional challenges of her students at this age (shot in 2014 at an Open House).
Highlights from her talk include:
"The Onyx kids learn about a lot of things but among those are organization, study skills, independent work, group problem solving, all while dealing with the emotional changes with growing up."
"I'll test them for different areas, and if they've mastered it, we'll move on, we won't worry about it, and if they are struggling with something…we'll go over it more. Because I don't like the idea of just saying, "Oh, well you kind of got that, let's move on." That's not good with me. I want to make sure they really have it down because that is what leads to problems in high school."
"When there's conflict in my classroom, we talk about the situation openly. It's important to listen to both sides respectively and with care. I make sure to ask open-ended questions to make sure to further understand the feelings that are going on for the kids. We together help co-create solutions for the conflict."
Onyx Students Respond to Cleveland High School's Program Inquiry
While we're no strangers to receiving inquiries at Summa about our innovative program, it's not often we receive a note from students themselves! Three Cleveland High School students got in touch with us last week, wanting to know more about our program. Here's what happened…
Dear Summa,
We are three students from Cleveland High School who are doing a project on alternative education for our Theory of Knowledge class.  We found your program and are interested in learning more about it. It seems like you have a really cool way of doing things! We have a few questions about your school and if you could answer them we would greatly appreciate it.
What would you consider to be the best type of student to attend your school?
What is your reason for having an extended school year?
Parents seem to play a large roll in your education… How big of roll do they play?
Do students need to have parents who are very involved in order to go to your school?
Are students prepared to go into public high school or is the goal for them to go in to more private education?
Since you opened in 2013 what kind of results have you been seeing with your system?
Is there anything else that you think we need to know?
Thank you so much!! We look forward to hearing from you.
Sincerely, Clara, Meesha, and Jonah

Ms. Pepper and the Onyxians decided to answer the questions as a class project. Here is the letter they sent back!
Hi Clara, Jonah, and Meesha! My name is Natalie Pepper (Miss Pepper to the kids). I'm the Onyx educator at Summa Academy. The Onyx class is our middle school. I teach 6th, 7th, and 8th graders all in one room. My class decided that we would love to respond to your email. Below is the response from my 9 students (yes I only have 9). If there is anything else you want to know more about, just let us know!
Sincerely,
Natalie Pepper & the Onyx crew

Q: Who would be a good Summarian?
A: A good Summarian is someone who is patient, confident, respectful, compassionate, a leader, honest, attentive, responsible, trustworthy, and curious. We have a lot of different personalities at our school, but we often find those are the qualities that fit best at our school.

Q: Why do you like having an extended school year?
A: What we do at Summa is fun. Classes are more like what we want to do instead of a chore. Therefore, we don't mind ending later in the summer. That is also when we do our field learning and take more field trips.

Q: What role do parents play at Summa?
A: They get conferences once a term to be updated on bigger subjects. Educators write weekly notes every other week for the parents. Also, there is a mandatory parenting program in which the parents learn about child development so that they can understand how it is applied in the classroom. They also brainstorm how to apply child development understanding at home.

Q: Do students have to have involved parents to go to your school?
A: The parents need to be involved to a certain extent, like with the parent program, but anything else is optional. The more involved they are the better though.

Q: Are kids ready to go into private or public high school?
A: Kids are prepared for any high school situation after Summa. If they are advanced they will be ready for harder classes. If they need a little more help, our educators make sure to work with them closely so that no one gets left behind.

Q: Since you opened in 2013, have you noticed changes in your school?
A: Last year was our first year. Some kids came to just check it out and they decided it wasn't the best fit for them. This year we have kept getting new students and more and more people find that they like it here.

Q: Why is Summa better than other schools?
A: The kids feel that they have found more happiness here and love to learn!
Parent Feature: Trish Langman
Trish Langman joined our community with husband Neale and son Henry (Sapphire ages 6-8) in September. Trish has eighteen years of experience designing for prestigious fashion companies worldwide, including Ralph Lauren, Calvin Klein, Halston, Kashiyama, Donna Karan, Nicole Miller, Anthropology, Banana Republic and Target. Her projects include work featured at the Costume Institute of the Metropolitan Museum of New York City, and a hand-painted designer gown for Celine Dion for her performance at the Grammy Awards ceremony of her Oscar winning song "My Heart Will Go On". She is the co-founder and owner (with husband Neale) of Spoogi, a successful international textile print design studio, and also serves as adjunct lecturer at the Art Institute of Portland. Recent projects include designing a limited edition blanket throw collection under her own label for Pendleton Home to launch in Spring 2015. We feel so fortunate to have Trish, Henry and Neale in our community and so grateful for her work with students at afterschool care on Wednesdays. Teaching art and leading art projects for children is one of her joys in life.
"Summa is great, the community has been so welcoming and we love it here!
The curriculum is strong in both the sciences and the arts, with amazing teachers who you can see work really hard to create a supportive atmosphere in the classroom. My son was pushed academically to the limit at his last school but with little attention to social interaction and play, it's really nice to see he has real joy of learning at Summa. The overall attention to detail, level of communication with parents, and quality of teaching all serve to make this an incredible school." - Trish Langman
Introducing Lead Educator, David Ley, MEd, Emerald Room
"One of the reasons I teach at Summa is the class size, I know every student. And it's very individual… It's not a blanket statement. Because it [education] really is dependent on the student in front of me." - David Ley, MEd
Growing up in the hills surrounding Santa Cruz, California, fostered David's curiosity of all things math and science. He earned his BA in Psychology from the University of Puget Sound and moved to Portland in 2006. He has since completed the Graduate Teacher Education Program at Portland State University, an ECE/ELE licensure, Teachers of Middle School Mathematics Certificate, as well as an MEd. He is thrilled to teach at Summa where he has the opportunity to combine his experience with children, his curiosity and the extensive training he has, to create a real and lasting relationship with his students and their families.
In this video, Mr. Ley talks about his classroom philosophy, his teaching strategies, and how students learn to work together in groups (shot in 2014 at an Open House).
Highlights of his talk included:
"I can tell you some generalities, some things that kids have in common, some things that we do in the Emerald room that build on those commonalities. That's really one of the things that we focus most on in the Emerald Room, is our commonalities, and working together, building trust, being in a relationship, and doing things cooperatively."
"How do we navigate being with some people now and doing things in a group, and that's a real challenge for a lot of kids. And that's a huge part of what we do."
"I had a student just this week say to another student, 'It's not about the answer. It's about us working together., and that's precisely what it is. It's about them working together as a group."
Mr. Ley was featured in the first Onyxian class newsletter, where he was interviewed by an Onyx (middle school) student.
Q: What music do you like?
A: All new music but not modern pop.
Q: Where are you from?
A: Santa Cruz, California
Q: What were your interests growing up?
A: Sports
Q: What are your favorite sports?
A: Judo, rugby, and basketball
Q: What are your favorite restaurants?
A: Higgins, Santeria, Kenny and Zuke's, and Mi Mero Mole
Q: What are your favorite foods?
A: Burritos and mac 'n' cheese
Q: What are your favorite books?
A: The Great Gatsby and Ender's Game
Q: What are your favorite places in the world?
A: Sofia, Bulgaria; Rome, Italy; the beach
Q: When did you decide to be a teacher?
A: 2006
Q: What ere your favorite subjects in school?
A: Physics, Latin, English, Math, and P.E./sports
Q: What are your favorite movies?
A: Casablanca and The Godfather
Fall 2014 Project Based Learning Theme: Food
Summa Academy students explore the world around them through a different lens each season. Fall 2014's overarching theme was food, encouraging students to examine food as art, food as ingredients, study the way food is produced in Oregon, and experience how food is grown, moved, displayed, and ultimately purchased, including looking at food use in restaurants, farmers markets, and grocery stores.
"We have looked at many different countries and food practices, and talked about similarities, differences, and community." – Amber Kara, Director of Summa Academy

Students traveled outside of Summa school grounds on field trips, conducting projects or research at various food-related destinations around Portland and the surrounding towns. Projects included gardening at the National College of Natural Medicine, eating out at South Park Restaurant, volunteering at the Oregon Food Bank, talking about farming at Draper Girls Farms and Rasmussen Farms, discussing food sales at the Shemanski Farmers Market, Tails & Trotters, and Green Zebra Grocer.
"There are two garden spots we have been using this year to grow our own vegetables: our own boxes, and space offered to us by our neighbor, the National College of Natural Medicine. The students visited and worked these boxes in rotation all through the fall. We were able to pick baby greens and basil for our community Harvest Party and Parent Celebration. We look forward to working the beds next year, especially in the spring, when we will have a chance to plant many different vegetables and flowers for an entire growing season." – Amber Kara, Director of Summa Academy
For the Emerald class, the food unit culminated in a group potluck. Each student prepared a dish at home and brought it in to share, creating a smorgasbord of food to enjoy as a community meal. A recipe book was also created so that every student could go home with each recipe to enjoy again and again.
The Onyxians were also inspired and included a recipe in their class newsletter. Enjoy the Onyxian recipe printed below.
Lemon Cake with Chocolate Buttercream Frosting by Abby Eyres
Ingredients (for the cake):
All purpose flour/Maida - 2.5 cups/300 grams
Eggs – 4
Sugar – 2 cups/400 grams
Vegetable Oil – 2/3 cups/160 ml
Milk – 2/3 cup/160 ml
Vanilla – 1 tsp
Salt – a pinch
Baking powder – 2 tsp
Baking soda – 1 tsp
Lemon juice – 1 TBS
Yellow food coloring – a pinch (optional)
Ingredients (for the frosting):
Unsalted butter – 1 cup softened
Confectioner's sugar/icing sugar – 4 cups sifted
Vanilla essence – 2 tsp
Cocoa – ¾ cup
Milk – 3-4 TBS
Honey – 2 TBS (optional, but recommended; it gives you the glossy effect)
Method (for the cake):
Preheat the oven to 180*C (350*F). Prepare 2 round tins by applying oil in the bottom and dust it with flour and coat flour on all sides. Tip out the extra flower.
In a bowl, add in flour, salt, baking powder, baking soda, and mix well.
Add in lemon juice, oil, milk, and mix well.
Sift the flour mixture and fold gently until combined.
Add in yellow food coloring and mix well.
Tip this into two tins and bake it for 25-30 minutes. Let it cool down and remove it from the tin.
Leave it to cool completely before icing.
Prepare the chocolate buttercream icing.
Sandwich the cakes with a dollop of icing and cover the entire cake with the icing and decorate it as you wish.
Method (for the frosting):
In a mixing bowl, add in butter and half the sugar and beat with an electric beater until fluffy and creamy. Add in vanilla and beat again. Now add in the entire amount of coca and beat again until fluffy. Pour in the milk a little bit at a time and beat until creamy. Tip in the rest of the sugar and beat well. If you need to, you could add in the honey and mix it with a wooden spoon. Use this for any cake. Enjoy!
"I have made this cake for my mom's birthday twice now. Both times that I made it, it was really good. I like my cake with more lemon, but it still tastes good without as much. When I first tried it I thought that the chocolate was going to overwhelm the lemon, but surprisingly with every bite I found both tastes very equal. When I made this cake I didn't use any of the yellow dye because the cake was already a yellow color, plus the taste of the dye makes it taste like it was one of the store bought cakes in my opinion. The frosting is smooth and creamy and pairs nicely with the lemon. This cake is one of the most delicious cakes that I have ever made!" - Abby
At the school Harvest Party, students presented all the items they grew, harvested, and made for the entire school:
Apple pies made by the students, with the apples they picked
Butter and whipped cream the kids made by hand in food transformations
Bread they mixed, kneaded and baked in the classroom
Beans, basil, and baby greens they grew and harvested in our garden
Apple sauce from the apples they picked
At the end of the night, students handed out gift bags filled with farm fresh apples and handmade seed bombs so that others can enjoy the love of gardening.
Lead Educator, Natalie Pepper, talks about what else the Onyx classroom learned in this project: "Science has been all about food and food production, watched food documentaries, I might have turned one or two kids vegetarians, done an experiment on preservatives in bread - which is disgusting, by the way; it's amazing how many different colors of mold there are, used the scientific method for our lab write-ups (very important for high school), and compared research on if all GMOs are created equal."